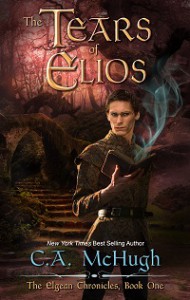 Gregor Meritis knows he's inviting trouble when he helps a wounded shape-shifter—especially when the law of the land is to kill them on sight—but he can't pass up the opportunity to study one before they become extinct. She disturbs the quiet order of his scholarly existence, vexes him in more ways than he can count, and encourages him to break enough of the kingdom's laws so that not even being the king's cousin will save his head. When she challenges him to join her on a quest to find the legendary Tears of Elios, he discovers magic far more powerful than he's ever imagined. But once he unlocks their secrets, will he be able to use their power for good? Or will he let them fall into the hands of a tyrant who's out to destroy all non-humans, including the shape-shifter who's captured his heart?
"I was blown away by the creative world Crista has compiled in her novels. It takes some new ideas about magic and mixes in old folklore and other more traditional ideas… it's definitely one that the young adult crowd would also be able to dive into." —Katie at I Smell Sheep
"The first thing that came to mind upon finishing this book is 'Holy Crap! Is that it?!' I did not want this book to end." —Jess at Starcrossed Reviews
E-Book available at iBooks, Kobo, Barnes and Noble, and  Amazon.
Print Edition  also available